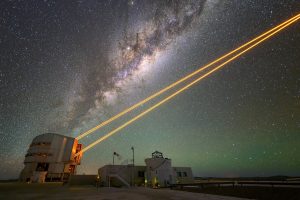 Remarkably we are now halfway through the 10 year Strategic Partnership between Australia and ESO. While there have been some significant achievements already, including 4 successful Large Programme proposals and 6 papers in Nature or Science from Australian-led ESO programmes, a lot has changed since Period 101. The introduction of a new web-based p1 tool, Dual-Anonymous Peer Review, and most recently the use of Distributed Peer Review for smaller programmes have all changed the way we write proposals. In anticipation of the Period 111 proposal deadline at the end of September, AAL and Australia's ESO Scientific Technical Committee and Users Committee representatives (Michael Murphy and Sarah Sweet, respectively) organised an on-line ESO proposal writing workshop held on Thursday 8 Sep from noon-2:30pm AEST (10am-12:30pm AWST). Topics covered included:
The Observing Programmes Committee Process
Summary of current and imminent ESO instrumentation
The Dual-Anonymous Proposal & Distributed Peer Review processes
followed by a round-table discussion involving a panel of major users of ESO and past OPC members about what makes a compelling proposal, and common mistakes to avoid.
A recording of the workshop is available by request to [email protected]
Workshop program
Time (AEST)
Time (AWST)
Speaker
Title
Link to presentation
12:00
10:00
Matthew Colless (ANU)
Welcome & background
12:05
10:05
Stuart Ryder (AAL)
La Silla Paranal Observatory Instrumentation for Period 111
Click here to view presentation
https://www.dropbox.com/s/qssvy0qrztw29jm/Ryder_instruments.pdf?dl=0
12:20
10:20
Richard McDermid (Macquarie)
The OPC Process
Click here to view presentation
https://www.dropbox.com/s/f0nmsk1asa1o0gw/McDermid_OPC.pdf?dl=0
12:40
10:40
Michael Murphy (Swinburne)
The Dual Anonymous Proposal & Distributed Peer Review processes
Click here to view presentation
https://www.dropbox.com/s/qr22nqqg0okciyj/Murphy_DAPR_DPR.pdf?dl=0
13:00
11:00
Elaine Sadler (U. Sydney - moderator); Caroline Foster (UNSW); Michael Murphy (Swinburne); Sarah Sweet (UQ); Emily Wisnioski (ANU); Devika Kamath (Macquarie)
Q&A and round-table discussion
14:00
12:00
Stuart Ryder (AAL)
Wrap-up and conclusion