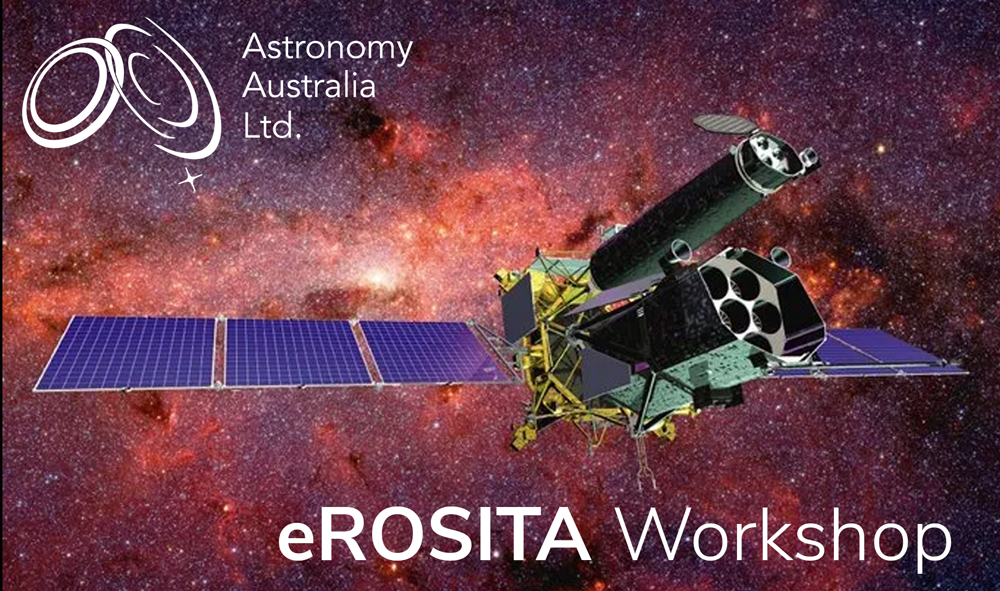 The 3rd Australian/eROSITA_DE Joint Collaboration Workshop will be hosted virtually from 23-24 March 2023.
In 2021, the eROSITA (extended Roentgen Survey with an Imaging Telescope Array) instrument onboard Spectrum-Roentgen-Gamma satellite completed its fourth (out of eight) survey of the full sky at X-ray wavelengths. The data obtained from these four surveys already surpass those from previous all-sky X-ray surveys, having much greater depth, image quality, and spectral coverage. 
The eROSITA data offer the opportunity to study extremely energetic events across vast scales in the Universe, from accreting binary systems at stellar scales to 10-million-degree shocks driven by galaxy cluster mergers. However, the full scientific exploitation of the eROSITA data requires a multi-wavelength approach. 
With a strong suite of local wide-field radio and optical astronomy surveys and facilities, the Australian community is well-placed to link with our German eROSITA colleagues in order to make the most of exciting new opportunities for multi-wavelength astronomy projects across the southern sky.
Workshop Details
The primary aim of this online workshop is to bring together members of the Australian and German eROSITA/eROSITA_DE communities to discuss the progress of ongoing collaborative projects, as well as to foster ideas for new projects.
In order to allow synchronous participation by both Australian and German parties, the workshop will be run between the hours of 6:30pm and 9pm AEDT (8:30am and 11am CET) on 23-24 March 2023.
This workshop will be a free online event that will include a variety of presentations and opportunities for discussions and networking. Access details will be provided to registered participants before the workshop. 
Information about the workshop logistics can be found here.
The workshop Code of Conduct can be found here.
Registration and Abstract submission
There is no registration fee to attend the workshop, however, please indicate your attendance via the this link to our registration page. Abstracts can be submitted via this link (also available on the registration page) by 15 February 2023. The workshop registration deadline is 17 March 2023.
Workshop Program – TBA